Steven M. Presciutti, M.D., FAAOS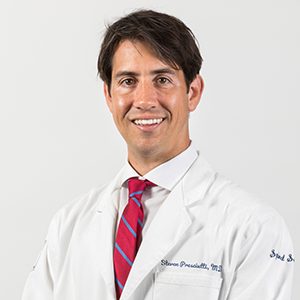 Dr. Presciutti is a Board- Certified, Fellowship-Trained Orthopaedic Spinal Surgeon. He attended Lafayette College where he received his undergraduate degree in Biochemistry. He received his medical degree from Jefferson Medical College in Philadelphia in 2009. Dr. Presciutti completed his residency in Orthopaedic Surgery at the University of Connecticut prior to completing his Spinal Surgery Fellowship in 2015 at Rush University Medical Center in Chicago, IL. During his fellowship, he received specialized training in performing minimally invasive spinal surgery techniques.
Dr. Presciutti is an accomplished researcher. Prior to joining Keystone Spine in 2021, he maintained his own research laboratory at Emory University in Atlanta, Georgia for six years. While there, he received numerous federally funded research grants pertaining to studies of the spine. Dr. Presciutti has published more than three dozen peer-reviewed journal articles, as well as multiple book chapters. He has been invited to present his research at both national and international conferences, and has won multiple awards from the Orthopaedic Research Society. He has been accepted as a Fellow of the American Academy of Orthopaedic Surgeons (FAAOS).
Dr. Presciutti specializes in minimally invasive spinal surgery techniques, which typically allows patients to enjoy less pain and a quicker recovery. He maintains active surgical privileges at The Surgical Institute of Reading and Penn State/St. Joseph's Hospital. Dr. Presciutti has been in practice since 2015 and is a native of Northeastern Pennsylvania.