With NFL training camp a week away, Jermichael Finley and David Wilson, who both suffered serious spinal injuries last season, are two players looking to get back on the field.
Both are recovering from anterior cervical diskectomy and fusion surgery (ACDF). Peyton Manning underwent this surgery and was cleared for return to play. However, specific criteria must be met prior to resuming contact sports.
A recent article in the journal Neurosurgery demonstrated athletes are safe to return to full contact sports after a single level anterior cervical fusion if the player demonstrated a solid fusion, full range of motion of the neck and a normal neurologic exam. If any residual signs of neurological irritation exist the player cannot not be cleared for full contact.
A former Green Bay Packer, Finley's injury was quite severe. He sustained a neuropraxia of the spinal cord in a game at Lambeau Field last fall against the Cleveland Browns. A neuropraxia is a "bruise" to the spinal cord that can cause temporary paralysis. It can also cause irreversible changes within the substance of the spinal cord that is easily identified on an MRI called myelomalacia (pronounced My-el-o-malaysia).
Until recently myelomalacia was an automatic disqualification from ANY return to contact sports. However, the article in Neurosurgery by Joseph Maroon, MD (Finley's surgeon and a physician for the Steelers) clearly showed that changes within the substance of the spinal cord do not preclude contact sports. If the player has a solid fusion, normal motion and a normal neurologic exam he may return to play regardless of the appearance of the MRI.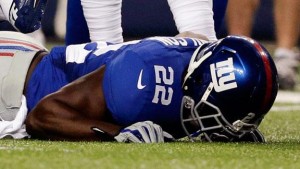 Wilson, a New York Giant, sustained a herniated disk on October 6th against the Philadelphia Eagles. His surgery was performed on January 9th, 2014 by Frank Cammisa, MD at the Hospital for Special Surgery in New York. Though his injury was less severe than Finley's he must meet the same criteria for return to play.
An abnormal neurologic exam is indicated by loss of strength, abnormal sensation of the hands or feet or hyperreflexia. These findings are signs of spinal irritation and injury. If any of these exist the player cannot be cleared for safe return to play.
It should be noted that the earliest a player can sustain a solid fusion is approximately 9 months after anterior cervical fusion surgery. The entire disk is removed between the vertebral bodies, not just the herniated portion of the disk as in low back surgery. Therefore, a piece of bone graft is placed between the vertebral bodies and needs to grow into the bone adjacent to it. This process takes a minimum of 9 months. It can be supplemented with an external bone stimulator in the post-operative period but this practice remains controversial.
So while these injuries and subsequent surgeries may not be career ending they are most definitely season-ending. It is imperative that both players undergo a complete evaluation by their physician prior to returning to play.
Dr. Banco is a board-certified, fellowship-trained orthopaedic spinal surgeon. He attended medical school at Jefferson Medical College followed by an orthopaedic surgery residency at Thomas Jefferson University Hospital, both in Philadelphia. Dr. Banco performed his spinal fellowship at The New England Baptist Hospital in Boston, MA.